Welcome to our gallery featuring kitchen lighting ideas!
The kitchen is perhaps the most important rooms to have excellent lighting.
Kitchens are used for a multitude of activities and most of them require being able to see well – making the lighting choice a pivotal one. Many kitchens wend up using a combinations of light styles to create a bright, inviting environment.
Here we have compiled a list of lighting ideas broken into categories for easy navigation: hanging lights, dome lights, rail lighting, recessed lighting, skylights, under counter or under cabinet lighting, vent hood lighting, and wall mounted lighting.
Each of these categories offers something different to a kitchen depending on style choice and design. Hanging lights, also known as pendant lights, are easily the most versatile. Coming in an astounding array of designs, these lights can fit in any space and are available in many sizes. They can diffuse light throughout the room, or create spotlights to highlight a specific area.
Dome lights are a classic choice for many rooms, not just the kitchen, though dome lights don't have to come in the unattractive design you are probably imagining. Just like hanging lights, they can come in many different sizes and styles!
Rail lights, or track lighting as they are also known, are the most customizable of the options. Easily moveable, they can be adjusted and changed depending on where light is needed.
For an all-over glow or to show off a feature of the kitchen, recessed lighting is the way to go. Recessed lighting can be subtle or bold, simple or bright and colorful. It doesn't have to just be in the ceiling either, you can recess lighting around walls, cabinets, even in an island (we have a cool example of this)!
Skylights are a great option if you want to rely on natural light during the day. Sunlight is a preferred lighting method for most people as it shows the truest colors and can show off subtle hues in a kitchen that may be lost under artificial lighting.
Under-cabinet lighting is the best way to get lighting to darker countertops when overhead cabinets shade them. It can also help to highlight and show off a gorgeous countertop.
Vent hood lighting is a unique and creative addition to a kitchen. Many of them are used strictly to light up a cooktop or work area but some of them actually work to light up a good portion of the kitchen.
Something about wall mounted lighting adds a bit of charm to a room, regardless of the style. Wall lamps and sconces are best for fitting lighting into tight spaces or hard to reach spots.
We hope that you can find something here to suit your needs! Please enjoy!
1. Hanging Lights
Pendant lights are a great way to bring light into the center of the room and add a striking visual to the room. This type of light, with a glass enclosure, creates diffused, soft lighting that encompasses a large area of the room.
Designed by Locati Architects. Photography by Roger Wade Studio.
Popular kitchen lighting ideas are pendant lights with shades, like the ones above, create a more direct source of light onto the workspace of the island below them. This offers great lighting for the center of the kitchen, but requires more lighting around the perimeter of the room to light the entire kitchen.
Source: Zillow DigsTM / Listings
These large, industrial-styled lamps create large pools of light over the island, which in turn reflects the light from the white surface. This requires subtler light around the rest of the room.
Designed by John Kraemer and Sons.
This lamp is more for decoration than actual lighting, but the soft, gentle light would create a cozy intimate setting. Can lights help to light the space properly for working and cooking.
These lights are also more for decoration and would create interesting shadow patterns on the walls. Clear bulbs would offer stark, bright lighting to the room creating plenty of the light for the dining table below.
Designed by SAOTA.
These delicate pendant lights add a whimsical touch seen throughout this kitchen. Though beautiful these lights would create soft pools of light on the island, but would do little to light the rest of the room on their own.
Designed by Miller and Miller Real Estate.
These stark, monochromatic pendants are great visual additions to this striking kitchen. The white shades offer a nice diffused light through out the room.
Designed by Jane Lockhart Interior Design.
These classy and sophisticated lights add a delicate touch to this room. The crystal clear bulbs illuminate the space with bright, clean light, requiring very little extra lighting.
Designed by Oliver Burns.
Less for extensive lighting and more for decorative, intimate lighting, this lamp creates a striking contrast to the bright white of the surrounding cabinetry.
This sleek and minimal pendant light creates a clean, bright light for the space the requires little extra lighting. Reflective surfaces help to extend the reach of the lighting.
Designed by Base Architecture.
Simple and structural design makes these lights interesting and creates a cool visual that fits in with the rest of this striking kitchen. The frosted white sides of the cube shades makes for a soft, ambient glow.
These narrow, gilded lights highlight the breakfast bar and complement the warm glow of the kitchen while standing out against the cabinetry. The narrow shades create a spotlight on the counter, showing off the patterning on the granite countertops.
Designed by DLB Custom Home Design.
This modern, minimal hanging light creates an interesting visual to the precise lines of this kitchen. Frosted tubes cast a subtle glow to illuminate both functional areas of the room.
These multi-colored pendants cast a warm, cozy glow over the granite counters of this expansive kitchen. The assistance of recessed can lighting helps to light the work surfaces and areas that the pendant lights can't reach.
Designed by Antarya Design.
These sleek, streamlined bar lights, complete the minimalist style of this kitchen. The highly reflective surface of the stainless steel counter helps give the light an ambient quality the suffuses the entire kitchen with light.
Designed by Patkau Architects.
These shiny brass lights make a stunning statement against the black subway tile of this monochromatic kitchen. Golden light reflects from the insides of the pendant lights and warms up the stark kitchen colors.
2. Chandeliers
A stunning chandelier brings this already marvelous kitchen to a whole different level. The reflective crystals create a stunning light display on the counter tops and walls.
Source: Zillow DigsTM
A uniquely designed wrought iron chandelier makes a striking centerpiece in this room. The twinkling lights illuminate the room well, added to by additional can lights to light up the perimeter workspaces.
In such a modern, colorful kitchen this angular chandelier is a perfect fit. The many layers and pieces layer to create a warm glow that emanates from within and lights the table below well.
Source: Zillow DigsTM
Even in a small kitchen like this, a nice chandelier can heighten the appeal of the room considerably. Directional lights ensure that the entire room is lit evenly with a nice glow.
3. Dome Lights
Sometimes just a simple dome light is enough to fill a space with light. This one sits on a pedestal , allowing light to emanate from all sides of the light and reflect off the ceiling, creating a more ambient glow.
Dome lights aren't only reserved for small fixtures, this large lattice light is a great example of that. This fixture is large enough to light the entire kitchen almost by itself.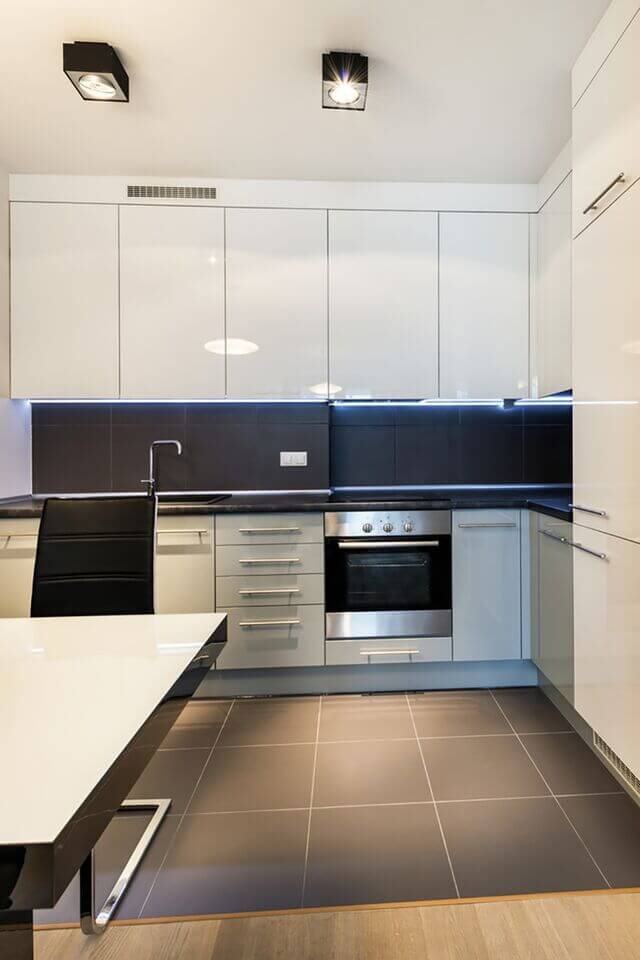 Little square lights continue the monochromatic coloring of this room right up to the ceiling. Bright, clean light can be directed by pivoting the light socket which is a good feature to ensure that every surface can get enough light.
Pivoting dome lights create multiple pools of light around the kitchen. This creates an interesting pattern of light and shadow along the surfaces but allows for light to be adjusted to where one needs it while working.
Designed by Ippolito Fleitz Group.